Roasted sweet potatoes are one of my favorite side dishes and make a regular appearance in my home. Treated just like roast potatoes, the edges crisp up and a sprinkle of spicy flavor make them delectable. I like to use Montreal Steak Spice because I love the peppery flavor, but feel free to experiment with whatever spice blend you like. Clubhouse also makes a great vegetable spice blend-although I haven't been able to find one without salt. In general I choose the no salt varieties because while I love spice, I don't necessarily love a lot of salt. Recently, Kevin suggested we come up with a spicy chipolte mayo that shot these bites of deliciousness clear over the top and has left us trying, unsuccessfully, to stop from eating an entire plate.
Of course I tweeted that information and within seconds, it felt like my entire stream was asking for photos, the recipe, anything that would give them a whiff of what we were eating. Of course, I had to make it again just to be sure it was...um...perfect enough for you.
Right. That's my story, anyway.
Before I go any further, just to keep you all in the loop here-what is the difference between a yam and a sweet potato? Some people say that they are interchangeable, but what is labeled 'yams' here at the store are far different than 'sweet potatoes' in texture and taste. I LOVE yams, and hate sweet potatoes. So which ones am I talking about?
They are BOTH sweet potatoes. I know, I know. You're scratching your head and wondering what the hell I'm talking about.
Believe it or not, there are two different kinds of sweet potatoes-one is the tougher, more starchy and whiter fleshed kind that we here in North America call 'sweet potatoes', and the smaller, more orange colored, moister textured variety that we call 'yams'.
Both are sweet potatoes
. I prefer the dark orange variety for the moister interior and flavor, and that is what I used in this recipe.
Still not sure?
Check out this article by Bon Appetit
, with a great photo of a true yam.
Sweet Potato Oven 'Fries'
Serves 2 people
1 1/2 lbs orange sweet potatoes (often called yams at the store)
olive oil
Montreal Steak Spice (without salt)
Spicy Chipolte Mayo
1/3 cup mayonnaise
2 Tbsp sour cream
2-3 tsp chipolte puree (*see note below), depending on how spicy you like it. Try less and if you want it hotter, add more.
1/2 lemon, freshly squeezed
Pre-heat oven to 375 F and line a rimmed baking sheet with
Paper Chef parchment paper
. I really love using the parchment here because I have some really nice rimmed baking sheets, and the last thing I want is sticky sweet potato stuff all over them that I may have to scrape off and ruin the finish.
Peel and slice sweet potatoes into even sized chunks, or stick shapes. I usually do mine into chunks, but I thought I'd try more for a fry effect for photos. The point is, you want them to be uniform sized as much as possible so that they will cook evenly.
Toss the sweet potato chunks with a glug of olive oil-enough to coat them, and then sprinkle with some steak spice. You can use whatever spice blend you wish, but I like mine peppery so this one works for me. I prefer the kind without salt because otherwise I find my fries too salty. Toss so everything is nicely coated.
Turn the bowl out onto the parchment, spreading the sweet potato fries out to give them some room. Bake for about 20-25 minutes until lightly browned and cooked through.
While the fries are baking, stir together all the dip ingredients. It may seem a bit hot but remember that when you are dipping the sweet potatoes in it, the sweetness from the potatoes will cut the heat somewhat. Cover and put the dip in the fridge until the fries are ready, then serve immediately.
*
Chipolte puree
is easily made by buying a can of chipoltes in abodo sauce, then pureeing it in a food processor. Spoon into an ice cube tray and freeze, so you can thaw a cube and use it to flavor all sorts of dishes.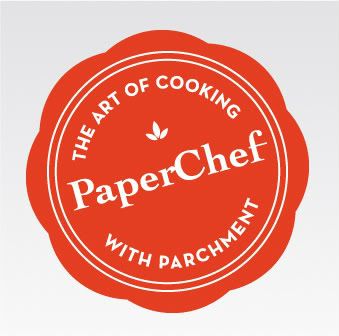 This post is sponsored by
Paper Chef
, who generously sponsored my trip to Blissdom Canada! Make sure to go check out their site for other fantastic recipes, videos, tips and trips on how to cook with parchment paper products. I use their products all the time in my kitchen and find them invaluable for clean up and just making my cooking/baking life a whole lot easier!