Years ago my sister in law used to make some great thumbprint cookies that were rolled in nuts, then filled with caramel and drizzled with chocolate. Sadly, I couldn't really eat them because I can't eat the nuts in that recipe, so I revamped my favorite brownie bite recipe to something similar. These are like one bite brownies and a caramilk bar all rolled into one, topped with chopped pistachios. I used
Paper Chef mini baking cups
to make these, because that way they are really easy to remove from the pans and the clean up is a snap. Just tuck them into a regular sized muffin tin and only use just under a tablespoon of batter, and you are good to go!
Check out the
Paper Chef
site for many other great recipe ideas-especially
chocolate and sea salt popcorn
YUM.
Brownies
:
6 oz bittersweet chocolate
1/2 cup butter
2/3 cup brown sugar
2 eggs
1 tsp vanilla extract
2/3 cup flour
Caramel Filling:
14 unwrapped soft caramels (Kraft is good)
3 Tbsp whipping cream
Topping:
2 oz bittersweet or semi-sweet chocolate
3 Tbsp chopped pistachios (or hazelnuts)
Pre-heat oven to 350 F.
In a saucepan over low heat, melt the chocolate and butter together until smooth, stirring occasionally.Set aside to cool slightly. Whisk in the brown sugar, vanilla, and then the eggs, one at a time, until the mixture is thick and glossy. Fold in the flour until combined.
Line a standard sized muffin tin with Paper Chef mini muffin tin liners.Spoon about 2 tsp-1 tbsp of batter directly into the center of the liners. Bake for about 10 minutes or until a tooth pick inserted into the center of the brownies comes out clean. While the brownies are baking, in a small pan over medium low heat, stir together the caramels and whipping cream. Continue to stir until the caramels melt and the mixture is smooth, then set aside.
When the brownies are finished baking, set the pan on a rack and let cool for about 5 minutes. Using your thumb, make an indentation in the middle of each brownie. Spoon about 1/2 tsp of the caramel mixture into each indentation. The mixture might thicken up again, but don't worry if that happens-just re-heat until it's runny enough to work with. Let the caramel filled bites cool on the stove for another 5 minutes before removing them from the pan to a wire rack, putting new parchment liners into the pan, and repeating the process.
Once all the brownie bites are baked and filled with caramel, melt the chocolate and drizzle over top, then sprinkle with chopped pistachios. Allow to set, then store at room temperature in a sealed container for about 3 days or freeze for up to 2 weeks.
Makes 2 dozen(That is, if you don't eat them all in one go)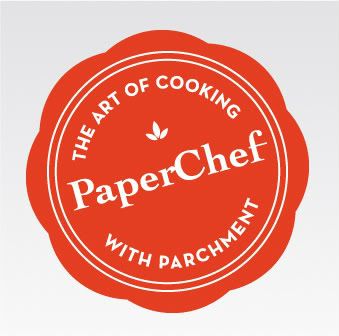 This post was sponsored by Paper Chef, who paid my way to Blissdom Canada. Make sure to pay them a visit and show some love!