I know what you are thinking.
"Huh? EN what?! Isn't that in a bag? How can you make tostadas in a BAG?"
Well my friends, you can. I did, last night, and they were not only delicious but the clean up was a snap. This recipe is great if you don't want to have a lot of clean up, and for letting family members choose what they want on their tostada, because you can set dinner up like a "build your own" tostada bar, like I did. The chicken came out moist and flavorful-all I had to do was shred it with two forks, mix it with the juices, and serve with all the fixings. You can do this recipe two ways-all from scratch since this IS October unprocessed and I haven't exactly written much about that or, you can do some from scratch and some pre-made, it's all up to you.
The chicken:
1 lb of boneless, skinless chicken breasts (I used 3 chicken breast halves)
2 Tb of beer, or chicken broth
1/2 small onion
1/2 small sweet red pepper, chopped
1/2 lime
3/4 tsp chili powder
3/4 tsp paprika
salt and pepper
1/2 tsp cumin
1/2-1 tsp chipolte puree (depends on the level of spiciness that you want)
Pre-heat oven to 350 F.
In a small bowl, stir together the chili powder, paprika, cumin, salt and pepper. Rub all over the chicken breasts. Place them in a Paper Chef parchment bag with the onion, sweet red pepper, beer or chicken broth, and chipolte puree.
Fold the bag up to close and place on a baking sheet. Bake at 350 F for 25-30 minutes, or until the chicken is no longer pink inside and the juices run clear. If you are using a meat thermometer, it should read 165 F at the thickest part of the breast.
Remove the chicken breasts from the bag and set aside to cool.
*note you can buy chipolte peppers in cans in the Mexican food section at the store. I like the ones canned in abodo sauce but I never can use the whole thing. Instead, I puree, portion out into ice cube trays, and freeze the chipoltes so that I can thaw and use them in the future. They add a lot of flavor to dishes.
Bean paste
:
So much better than canned refried beans, but if you have a kind that you like and it's easier, go for it. I like these instead.
1 (15 oz) can black beans
1 clove of garlic
1/2 lime, juiced
1 tsp chili powder
1 tsp cumin
1 tsp oregano
2 tbsp oil
2-3 tbsp water
small bunch of cilantro
In a food processor, blend together the black beans, garlic, lime juice, chili powder, cumin, oregano, oil, and cilantro. Add the water a bit at a time to loosen up the mixture. What you don't use, you can serve with tortilla chips as a dip.
If you really want to go all out and do everything home made, and I suggest you do because the bottoms are the best and I don't even buy pitas anymore, go here for the recipe. You will be happy you did. You can find the
recipe for the no fail tortilla pitas here
. It makes 8, and for our family 1 tostada each was enough. You should have enough beans and chicken that combined with veggies will make about 6-8 tostadas. (We go heavy on the veggies, though)
To serve
:
Serve the warm shredded chicken with the bean paste and an assortment of toppings. I smeared the pitas with bean paste, then heaped it with chicken, lettuce, sweet peppers, cheddar cheese, avocado, sliced fresh tomato, cilantro, and sour cream mixed with a little more chipolte.
Serves 4-5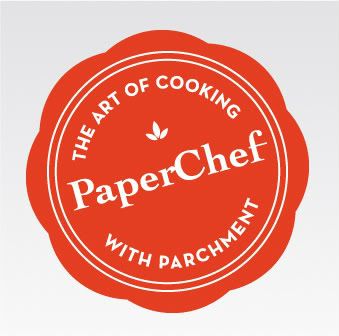 This post was sponsored by
Paper Chef
and
Chicken Farmers of Canada
, who helped to send me to Blissdom Canada! Make sure to drop by their sites for more recipes, articles, and cooking tips. You can check out the
parchment paper bags
to learn more about them, find recipes, and even videos with tips on how to cook with them.